WebOS FOSDEM schedule app for 2012 submitted to HP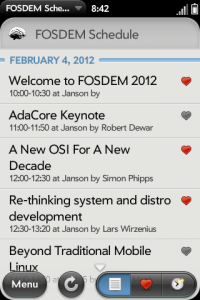 Today I submitted the 2012 update for the FOSDEM (Free and Open source Software Developers' European Meeting) schedule app for WebOS. This year the FOSDEM is taking place on February 4th and 5th in Brussels. You can find it the updated version in the official HP App Catalog sometime next week after it was reviewed by HP – or you can already download the *.ipk package (linked here). Like 2010 and 2011, it's mainly an application for planning your FOSDEM visit and have a handy offline-working list of the schedule on your WebOS device.
There are several enhancements, as every year. Finally all event details are shown in an own "scene" instead of the drawer view. This makes the list view more snappy and helps for a better structure. As last year, there are room maps for most of the rooms (sadly some are missing because there aren't available at the FOSDEM website).
The application is released as free and open source software under the GPL v3. You can find the source code, GIT repository, bug tracker, the .ipk package and more at forge.webpresso.net.
As always feel free to share ideas, improvements and bug reports. Just leave a comment or use the bug tracker (registration and manual activation is required to avoid spam – and trust me, there are many spammers…).