WebOS FOSDEM schedule app for 2011 released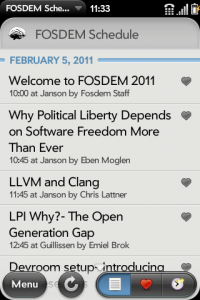 I submitted it to Palm yesterday, today it was reviewed and published: the FOSDEM (Free and Open source Software Developers' European Meeting, taking place on February 5th and 6th in Brussels) schedule app for WebOS. You can install it on your WebOS device easily by following the link on your WebOS device or searching it in the official Palm App catalog. Like last year, it's mainly an application for planning your FOSDEM visit and have a handy offline-working list of the schedule on your WebOS device.
The functionality has grown over the last version. You can now mark items as favorite and switch to the list of your favorites. This should make planning easier. You can also switch to a view with all events in the future – making it easy to see what talks are next. The search functionality is now improved. Also new is a "Feeds" function where you can have a look at FOSDEM website news as well as various identi.ca and Twitter channels. There are also two new maps included. The application is localized for English and German, but the schedule and feed items of course are all English.
Under the hood many parts of the code was rewritten and/or improved. There's still room for improvement, but the performance should be now better and many bugs should be fixed.
The application is released as free and open source software under the GPL v3. You can find the source code, GIT repository, bug tracker, the .ipk package and more at forge.webpresso.net.
Always feel free to share ideas, improvements, bug reports and your opinion. Just leave a comment or use the bug tracker (sorry, but registration is required to avoid spam).