FOSDEM 2010 schedule application for WebOS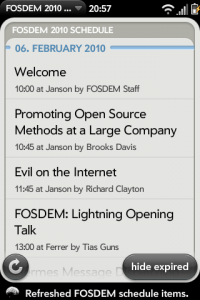 If you're going to this years' FOSDEM (Free and Open source Software Developers' European Meeting) in Brussels, and own a Palm Pre or Palm Pixi, this application may help you keeping track of the schedule. It downloads the schedule from FOSDEM server, saves it to your device and shows a list of events. So you can use the schedule offline – this might save you data roaming fees.
This is my first WebOS application and it was created in very short time, anyhow I hope it's a little bit useful.
A small feature list:
Stores schedule. Use the "Refresh"-button in the left corner to download the latest schedule and automatically save it for offline use. This also happens if you hit "Yes" after first launch.
Event details. Tap on an event to view detailed information.
Quick search. Simply start typing to search in all titles, locations and attendees.
Hide expired events. Tap on the right button to hide all events which are already expired.
Campus map. Use the campus map for orientation. You can find it in the application menu in the schedule scene. It's the one I found on the FOSDEM website.
Supports every orientation. Turn the device as you like to.
This application is free software and licensed under the GPL v3.
Download: You can download this application via Palm web distribution. Simply tap the link from your WebOS phone, you can easily install the application on your device. You can also download it to your desktop pc as .ipk package file and install it via WebOS Quick Install. I also provide a .zip file which includes the source code and a few resources, so you can play around with the source code (although you also could unzip the .ipk file).
If you find bugs or need support, please write a comment (preferred) or an E-Mail, I'll respond as soon as possible.